A Bag Worth More Than Gold: Everything You Need To Know About Hermes Birkin, The World's Most Coveted Hand Bag
A couple of years ago, when I first learnt about the Birkin bag by French luxury brand Hermès, I saw a popular Nigerian actress carrying a black one and sent the photo to my friend who immediately told me it was a fake. How she knew? she owned one herself and could spot a fake from afar. She also told me then of how cumbersome it was to get one, even if you could afford it.
Hermès is one of the most recognisable brands around the world that specialises in production of luxury leather goods, lifestyle accessories, home furnishings, perfumery, jewellery, watches and ready-to-wear.

Birkin bags are considered a symbol of wealth and exclusivity due to their extremely limited production, making it remain one of the fashion world's most coveted accessories. In some cases, the Birkin is considered even more valuable than gold. Simply getting your hands on a Hermès bag requires being placed on a waiting list for several years. Shocking right?
However, for the elite and famous, Hermès makes an exception. Numerous celebrities have been spotted carrying The Birkin and Kelly (the two most popular bags from the brand) bags all over the world.
Hermès infamous Birkin and Kelly handbags are the holy grail of luxury purses.
Celebrities like the Kardashians, Jlo, Victoria Beckham, Jeffree Star and of course the Birkin Queen herself, Singaporean flight attendant-turned-socialite Jamie Chua, who is said to have the world's largest Birkin collection (over 200 bags), have made the purses very popular, making it one of the most replicated designer bags worldwide.
I am sure some million dollar questions in your mind are, why is Birkin bag one of the most coveted bags in the world? Why is it so special/expensive? Why is there a wait list even when you can afford one?
Based on my research, I will take you through why Birkin is so special. After reading, then you can judge if you think it's worth the price tag/hype or not.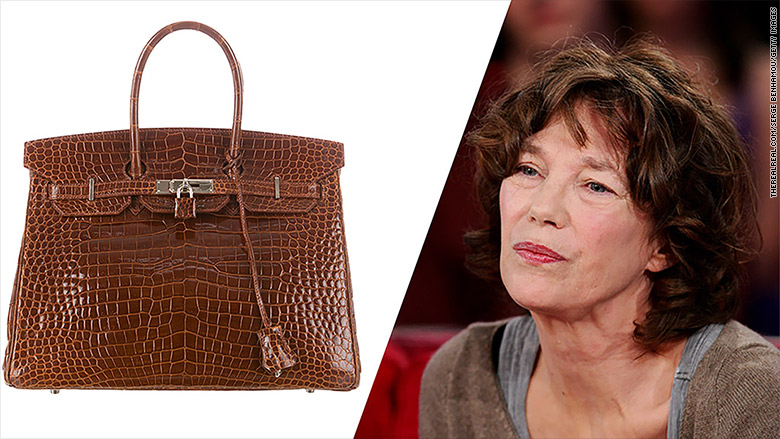 The Story Behind The Iconic Birkin Bag
In 1983, Hermès chief executive Jean-Louis Dumas was seated next to English actress and singer, Jane Birkin on a flight from Paris to London.
Birkin had just placed her straw travelling bag in the overhead compartment for her seat, but the contents fell to the deck, leaving her to scramble to for her items. Birkin explained to Dumas that it had been difficult to find a big leather bag that suited a young mother.
He immediately outlined a spacious rectangular bag with polished saddle lid and stitching. The bag even came equipped with a space for baby bottles. The bag is now a symbol of uber wealth, with some types of Birkin selling for over $200,000 (over N76 million).
How The Worlds Most Coveted Handbag Is Made
A 2011 documentary "Hearts and Crafts," directed by documentary filmmaker Frederic Laffont, depicts daily life inside a Hermès factory in France where bags, glass goods, drawings, and leather saddles for horseback riding are crafted.
Birkin bags are sold in a range of sizes. Each one may be made to order with different customer-chosen hides, colour, and hardware fixtures. There are also other individual options, such as diamond encrusting.
The bag also comes in a variety of hides such as calf leather, lizard, and ostrich. Among the most expensive used to be saltwater crocodile skin and bags with smaller scales cost more than those with larger scales. Prices for the Birkin bag depend on type of skin, the colour, and hardware fixtures.
According to a 2012 report by Business Insider, Hermès staff can in a month produce 15 hand-crafted bags of different styles and textures. The bags range from $10,000 to over $200,000 depending on the size and material used.

Birkin is made by skilled Hermès artisans, taking a craftsman 18 to 25 hours to complete a bag from cutting and smoothing leather, hand stitching the bag together, and attaching and polishing the hardware.
In addition to the top-quality materials and impeccable craftsmanship, the value of a Birkin lies in their limited quantity.
The French luxury goods manufacturer employed in 2017 a total of 13,483 people worldwide. This would be more than 2.5 times the number of employees compared to the 5,361 people employed in 2002.
According to the company, the increase in workforce is to keep up with demand, this is because Birkin requires a long time to be produced to almost perfection.

There was at some point a 7-year waiting list to buy a Birkin Bag, however, nowadays the only way to buy one is to be invited by Hermès.
So how, exactly, are Hermès' bags made? See some photos below:
Price Tag
New Birkins range in price from $10,000 to $223,000 and  regularly sell on the secondary market for more than their original sales price. However, some say these bags are more than just status symbols for the uber rich.
The bags are repairable for life, and because of their quality, could likely be passed down as an heirloom.
Marissa N. Stempien, the fashion editor of JustLuxe.com said;
There's more that goes into that price than just paying for the Hermès name. The Birkin is an extraordinarily well made bag. Each one is handmade by trained craftsmen and can take over 18 hours to make, and that number can be doubled if working on exceptional pieces such as those accessorized with diamonds.
The extremely rare Hermès Diamond Himalaya Birkin 25 is made with the skin of Niloticus crocodile found in Africa and is covered in 18k white gold and strap loops encrusted with 205 diamonds.
In 2017, the lauded Hermes Birkin bag fetched a record auction price in Hong Kong for $384,258.
Bag Worth Investing In More Than Gold?
Many have called buying a Birkin bag wasteful spending but this notion is very far from the truth. In fact, if you are looking to put all your investments in one Birkin, it will ultimately be more profitable than gold.
Comparing three different types of investments — the S&P 500, gold and Birkin bags, Baghunter, US luxury consignment site, in a 2016 study found that while the stock market and the value of gold can swing up and down, that is not the case for the value of Hermès' Birkins. In fact, the bags continue to increase in value, by an annual average of 14.2 percent, according to Baghunter.

In other words, the pricey handbags, which retail for upwards of $10,000, do not have bad years, making them "safest and least volatile investment market of the three."
While economic factors affect the value of the S&P 500 and gold, the exclusivity of Hermès Birkin bags has helped them maintain and increase their value, even during times of recession.
The handbag's peak surge value occurred in 2001 when it increased in value by 25 percent, and the lowest increase was 2.1 percent in 1986.
2015 saw a record-breaking year for Hermès Birkin bags, with a record sale for a single handbag sold at auction broken by a pink crocodile-skin Birkin, sold for $223,000 (£155,000, €204,000) at auction, the highest price for a single bag, as at then. 
A 2017 study found that the value of Hermès Birkin bags has increased 500% over the past 35 years, up 14% per year.
In another report by CNBC, Birkin bags increased 13% in value in 2019. Below is an overview of the price of the Hermès Birkin 35 (Togo) over the years:
The only problem might be getting your hands on one, as the style is produced in limited quantities and there is a permanent waiting list, which can be as long as six years.
Bag Hunter has suggested this long wait has added to the increase in resale values of Birkin bags, with second-hand models often selling for more than their original price. After all, many would rather pay more than wait.
World Record Breaking Bag
As earlier stated, in June 2017, a Birkin handbag sold at a Christie's auction in Hong Kong for $384,258, breaking a world record for handbags sold at auction, making it most expensive Birkin bag. However, it is the 6th most expensive bag in the world.
The top 5 are;
Mouawad 1001 Nights Diamond Purse – $3.8 Million.
Hermes Kelly Rose Gold – $2 Million.
Hermes Birkin Bag by Ginza Tanaka – $1.4 Million.
Hermes Chaine'd Ancre Bag – $1.4 Million.
Lana Marks Cleopatra Clutch – $400,000.
The extremely rare Hermès Diamond Himalaya Birkin 25 is made of the skin of the Niloticus crocodile found in Africa and is covered in 18k white gold and diamond hardware. Topping the lists of couture with the highest resale value, it's always Birkin bags.

The Queen Of Birkin
While many celebs own a Hermès bag or two, very few of them can compete with Jamie Chua's Hermes collection, who dethroned Victoria Beckham from that position.
The ex Spice girl was described as the 'Birkin Queen' for owning over 100 most Birkin bags in the world said to be worth over $2million.
In fact her Ostrich leather Birkin pictured below in pink is one of her more expensive Hermès bags worth over $150,000.
However, Chua, a Singaporean flight attendant-turned-socialite owns close to 200 Hermès Birkin bags, and is called Singapore's Queen of Instagram.
Before becoming the famed Queen of Instagram, Jamie started it out rough, too. At age 15, she was already modelling part-time while studying to support her parents and two brothers.
However, her real claim to fame started out as a stewardess for Singapore Airlines when she was just 20 years old. One day, on a business flight, she met Indonesian tycoon Nurdian Cuaca, who became his husband shortly after.
After 15 years and two children, the two separated and settled their case in court, leaving Jamie with $332,000 a month in alimony to take care for herself and her children.
Now, she maintains and grows her money with a vast portfolio of investments in US and European hedge funds, bonds, and equities. She also runs her very own skincare line, Luminous1 by Jamie Chua.
See some photos below:
View this post on Instagram
Now you know why the Birkin bag is so special and coveted. Against this backdrop, will you get one if you were super rich? Do you think its worth the hype? Let me know what you think, do leave your comments.
First published – 18th of February, 2016.