World
Colombian President Juan Manuel Santos Wins Nobel Peace Prize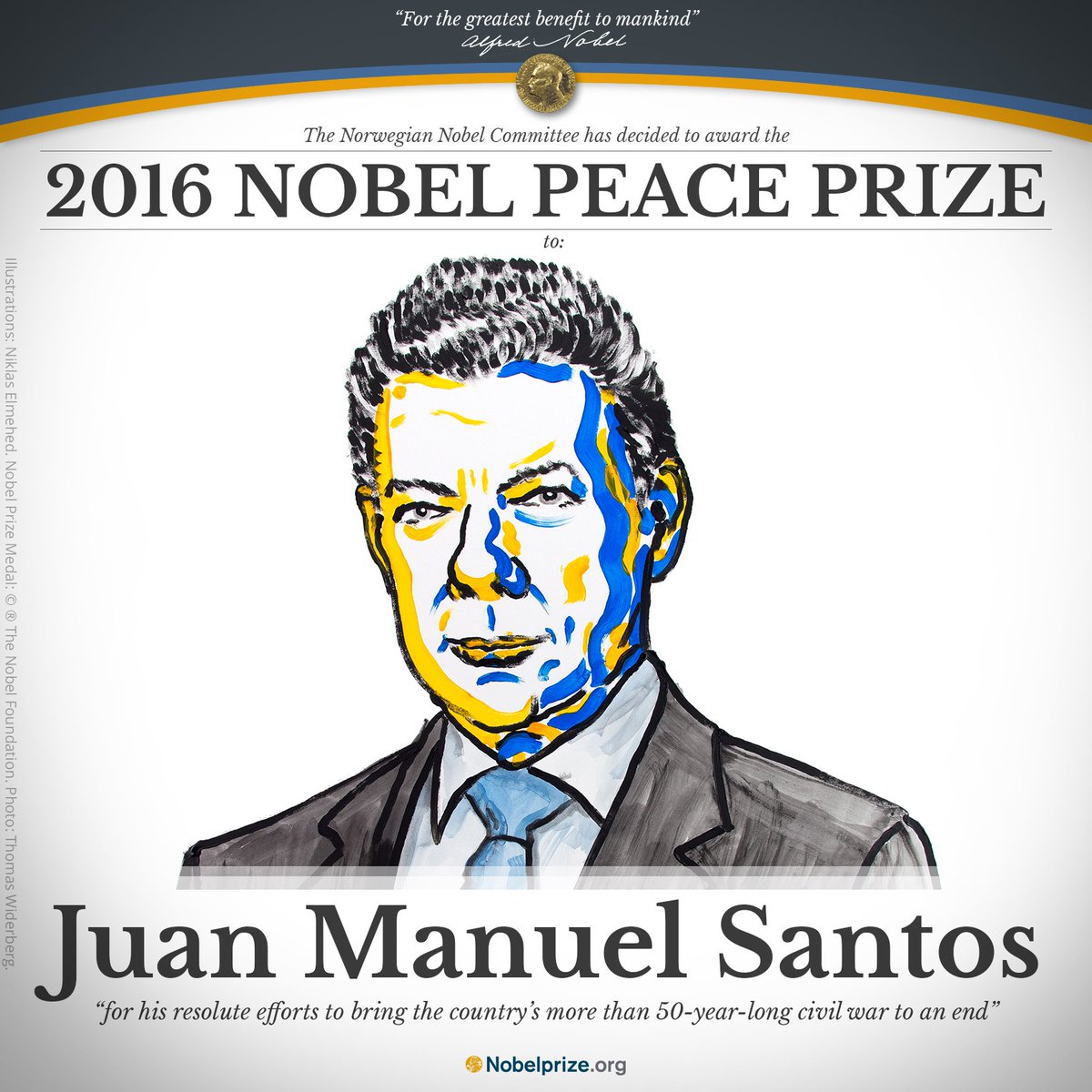 Colombian President Juan Manuel Santos won the 2016 Nobel Peace Prize on Friday for his efforts to end a 52-year-old war with Marxist rebels, a surprise choice and a show of support after Colombians rejected a peace accord last Sunday.
The Norwegian Nobel Committee said Santos had brought one of the longest civil wars in modern history significantly closer to a peaceful solution, but there was still a danger the peace process could collapse.
The award excluded FARC guerrilla leader Rodrigo Londono, better known by his nom de guerre Timochenko, who signed the peace accord with Santos in Cartagena on Sept. 26.
Santos has promised to revive the plan even though Colombians narrowly rejected it in a referendum on Sunday. Many voters believed it was too lenient on the FARC guerrillas.
"There is a real danger that the peace process will come to a halt and that civil war will flare up again. This makes it even more important that the parties, headed by President Santos and FARC guerrilla leader Rodrigo Londoño, continue to respect the ceasefire," the Norwegian Nobel Committee said.
"The fact that a majority of the voters said "No" to the peace accord does not necessarily mean that the peace process is dead," it said.
More than 220,000 people have died on the battlefield or in massacres during the struggle between leftist guerrillas, right-wing paramilitaries and government troops.
Millions have been displaced and many beg on the streets of the capital, while economic potential has been held up in the mostly rural nation.
The committee quoted Santos as saying the award would help further the peace process.
"He was overwhelmed. He was very grateful. He said it was of invaluable importance to further the peace process in Colombia," committee secretary Olav Njoelstad told Norwegian state broadcaster NRK after having spoken to him by phone.
Colombia's ambassador to Norway, Alvaro Sandoval Bernal, said it was a message of hope for his country.
"It reiterates that there is hope for the peace process in Colombia." 
The one-sided prize echoes previous awards, such as to South Korean President Kim Dae-jung in 2000 for his work for reconciliation with North Korea. West German Chancellor Willy Brandt won in 1971 for his policies of reaching out to the communist East.
But often the awards go to both sides in peace negotiations, such as to Israelis and Palestinians in 1994 or to Egypt's Anwar Sadat and Israel's Menachem Begin in 1978.
The Nobel Peace Prize, worth 8 million Swedish crowns ($930,000), will be presented in Oslo on Dec. 10.
-Reuters